Valour Rift area is now officially OPEN!
For the details of the Guide, please go to: Valour Rift Guide
What To Do
Preparation to enter the area
Key item: Rift Detector

To enter the new area, hunters must be at Archduke / Archduchess

, use Rift Detector

item and have recovered 2,000 Rift Distortion

The projector can be bought from the Living Garden - Cartographer using the following items:


Similar to its mirror,
King's Gauntlet
, hunters will be hunting in the tower. However, this Rift tower version might be confusing for anyone new in this area. There are currently 8 uniquely themed floors within the tower. Check out the following for the Quick Start guide:
1) Hunt outside tower to get Gauntlet Elixir

to trade for Gauntlet String Cheese

2) Enter the tower, on subsequent runs you can choose an augmentation to help you.
Augmentation is only for that particular run.
3) Hunt inside tower to clear floors. You only get steps if you catch a mouse.
Brie String Cheese

works here too but Gauntlet String Cheese

is best as it attracts the Terrified Adventurer Mouse

which gives x2 steps.
You have limited hunts before you are kicked out (base 40 hunts).
4) Upgrade Speed to take more steps; Sync for more hunts; Siphon for bonus hunts after catching Eclipse.
These are permanent & can be upgraded at anytime to immediately reap the benefits.
5) You can use Champion's Fire

for more loot [+1 similar to Queen Quesada Mouse

] and to take more steps [+1 similar to Tower Mana

]
6) Completing each floor gives a reward in the form of a floor cache.
You get them when you retreat. You can retreat anytime.
Clicking on the retreat button shows you what you will get.
7) Floor 8 is the mini-boss, Shade of the Eclipse Mouse

.
You are not going to reach Floor 8 on your first run, concentrate on upgrading Speed and Sync.
8) Once you have enough Fragment of the Eclipse

from Shade of the Eclipse Mouse

& reached Floor 25, you can choose Ultimate Umbra as your augmentation on your next run.
This allows you to catch The Total Eclipse Mouse
which drops Core of the Eclipse
.
Use those for the new trap, base, skin and codexes.
FAQs
Q) Worth to use Magic Essence
to convert to Gauntlet String Cheese

?
A) Yes if Gauntlet String Cheese

cost on Marketplace > SUPER|brie+

cost on Marketplace
Q) Best order to upgrade / retreat?
A) Verdict is not out as this is still new.
Initial thoughts is Speed > Sync & to retreat on Floor 2 until u get Speed 3 & Sync 2.
Q) What item best to donate for?
A) Dependent on Marketplace but for now Champion's Fire

.
Q) I'm too broke / busy to do anything !
A) Hunt outside tower passively and sell Gauntlet String Cheese

and Champion's Fire

on Marketplace.
This quick start guide and FAQs are written by Norm#[email protected]
The boss: The Total Eclipse Mouse
The boss of this place is The Total Eclipse Mouse
.
As always the designer in Hitgrab nails it again. Look at how intimidating the boss looks like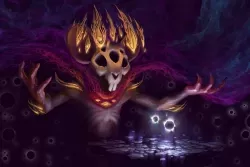 There are many other new mice in this area, you can check it by clicking here: Valour Rift mice
New Items
The new trap in this area, Celestial Dissonance Trap

, is now the strongest Rift
trap.
Click here to see the Best Traps and Bases list
The trap has 3500 power, +10 luck, 12% power bonus, 10% attraction bonus and is on sale in Valour Rift - Trapsmith.
There are currently 2 skins available for this trap:
Lunar Celestial Dissonance Skin

Solar Celestial Dissonance Skin

Click the trap or shop link above for more details of the requirement of the trap.



Prestige Base

is now also available to buy in Valour Rift - Trapsmith.
Click the trap or shop link above for more details of the requirement of the trap.






Basket
The following new basket is from the Donate section:
Valour Rift Gift Basket

- $3.00
Valour Rift Supply Kit

- $15.00
Valour Rift Large Supply Kit

- $35.00

Support the dev by donating.



This area is a permanent area